Baofeng UV-B6 5W Dual Band Radio (Duobander) Handheld 2m & 70Cm 5W Power (Up to 520MHz)
Baofeng UV-B6 is a multifunctional dual-band UHF/VHF two-way handheld radio that is also budget friendly. With a capacity of 99 channels and up to 10 hours of battery life, the UV-B6 is a good option for all those who are looking for a solid, durable HT, at a low cost.
The UV-B6 offers 99 programmable channels with priority scanning, dual display and 1750Hz call sound. Other features include UHF/VHF Dual Standby, Ani code, DTMF code, and CTCSS manual input. The UV-B6 also has a Dual Display switch, VFO/Channel Mode switch, built-in 65-108Mhz FM radio, built-in VOX (Voice Operated Transmit) for hands-free operation and a flashlight.
Baofeng UV B6 has up to 5W of power and is powered by a 2000mAh Li-ion battery up to 10 hours of operation. The battery saver feature helps you save power until you need it.
Characteristics of the Baofeng radio:
PC or program manual
Radio function
Voice prompt
Kod DTMF
50 CTCSS and 104 DCS codes
Timer (TOT)
Step frequency (5, 6.25, 10, 12.5, 20.25 KHz)
Battery saver
VOX function
Busy Channel Lock Function
Low battery warning
Dual-band, dual display and dual standby
Auto rear light
3 ways to scan (time, carrier wave, search)
PTT-ID (press PTT to transfer code, release PTT to transfer code, or both can send code)
Frequency difference setting
The keypad number directly selects the Menu function
Reverse frequency function
Emergency alarm
High and low power switching
Priory scan function
Wide/narrow stripes of many holiday homes
Code ANI editing
Confirmed relay forwarding (1750 HZ)
Noise reduction
Double watch with U/V cross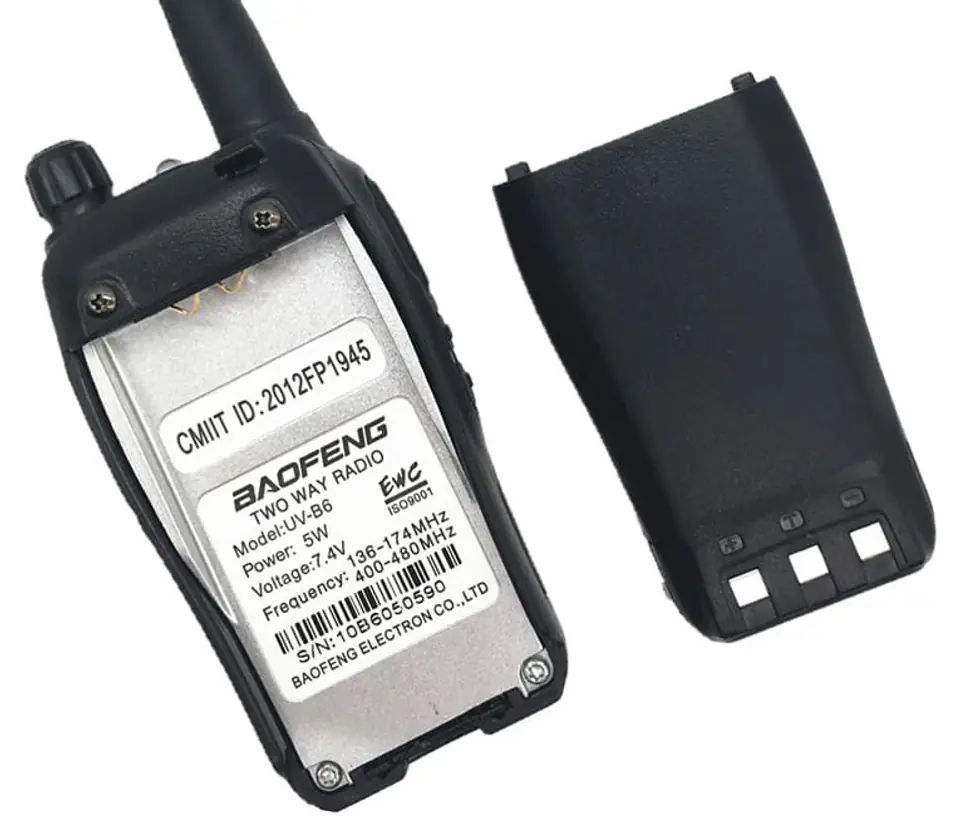 Baofeng UV-B6 Specifications:
Frequency Range: 136-174/400-480MHZ
Memory Channel: 99
Step frequency: 5/6. 25//10/12. 5/20/25 kHz
Rated voltage: DC 7.4V
Frequency stability: 2.5ppm
Battery Capacity: 2000MAH
Working way: simple or semi-duplex
Antenna impedance: 50 ohms
Modulation mode: FM
Maximum frequency deviation: 5 KHZ/2.5 KHZ
Apparent power: less than 7.5 uw
Adjacent channel power: less than 65dB/less than 60dB
Audio distortion: less than 5%
Sensitivity: -122dBm (12dB SINAD)
Quiet sensitivity: less than 0.2uV
Sound Power: 1W
Modulation (wide bandwidth, narrow stripes): 16 K, F3E/11 K, F3E
Package Contents:
Baofeng UV-B6
battery
power supply
charging cradle
belt clip
antenna
leash for the hand
Headset
user manual (English)